SETTLER COLONIALISMS, QUEER ACTIVISM AND THE PINKWASHING OF ISRAELI APARTHEID
Thursday, May 2
7:00 pm
Room 7000, 7th floor, accessible by elevator
SFU Harbour Centre, 515 W. Hastings, Vancouver
Facebook Event: https://www.facebook.com/events/112139772318988/?fref=ts
http://quaiavancouver.wordpress.com/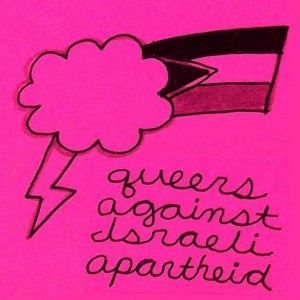 *We recognize that we do this work on unceded Coast Salish Territories, the lands of the Musqueam, Skxwú7mesh-ulh Úxwumixw (Squamish), Stó:lo, and Tsleil-Waututh peoples* 
 
*Please scroll to the bottom for detailed accessibilities information including how to make this event more accessible for others in our community, venue information and more* 
Lately, you've probably been hearing words like pinkwashing, settler colonialism, and homonationalism. Maybe you heard that there were a bunch of queer and trans folks wearing hedgehog masks and holding pink signs about Israeli apartheid at the Queer Film Festival. Or you've wondered what queer solidarity for Palestine looks like? And how radical queer and trans folks can support Indigenous struggles on Turtle Island or what the connections are between Canadian and Israeli settler colonialisms? Ever wanted to figure out how we can resist pinkwashing and build genuine movements of solidarity that resist all forms of colonialism and occupation? Or perhaps you just want one of those really cool QuAIA bandanas?
With the help of some fabulous speakers, QuAIA Vancouver is putting on a panel to discuss some of these very questions, share great info, engage in some discussion and help build radical queer and trans communities.
*************************************
Speakers include (more information coming soon):
– Mike Krebs is an Indigenous activist of Blackfoot, Cree and european descent. Based in Vancouver, he has previously been active in Palestine solidarity organizing.
– Nada Elia is a Diaspora Palestinian. Both of her parents were expelled from Jerusalem in 1948, she was born in Iraq, and grew up in Beirut, Lebanon. A professor of Global and Gender Studies, Elia is a scholar-activist who serves on the Organizing Collective of the US Campaign for the Academic and Cultural Boycott of Israel, and writes and speaks about BDS as a strategy to end Israel's apartheid practices and policies. Her current research is about the gendered aspect of resistance, including the denunciation of Pinkwashing, Israel's attempt to tout its (Jewish) gay-friendly record so as to distract from its violations of the human rights of the Palestinian people.
*************************************
This panel will explore the intersections between Israeli and Canadian settler colonialisms and Israel's campaign of attempting to pinkwash its brutal occupation of Palestine.
By appealing to global LGBTQ communities to support the Israeli settler colonial state at the expense of Palestinians, Israel is actively engaging in the pinkwashing of apartheid and occupation.
As queers, trans folks, and allies, we are outraged by the appropriation of queer and trans struggles for liberation in order to obscure, excuse, or justify state violence and colonialism. As radical queers committed to anti-colonial struggles and all forms of oppression, we also stand in solidarity with Indigenous struggles against ongoing colonialism here on Turtle Island. When we come out against settler colonialism in all its forms and against Israeli apartheid, we interfere with the myth making that is vital to upholding Israeli and Canadian colonial regimes.
Please join us to learn how you can resist this state-sponsored hijacking of our community's voice, and raise your own voice with ours to say "No Pinkwashing in Our Name!" Oh and there may also be some of those amazing bandanas, possibly even with glitter!
Queers Against Israeli Apartheid is part of a growing international movement – led by Palestinians – against Israeli apartheid, occupation and colonialism.
Endorsed by:
Canada Palestine Association (CPA)
Voice of Palestine
Samidoun: Palestinian Prisoner Solidarity Network
Boycott Israeli Apartheid Committee (BIAC)
Solidarity for Palestinian Human Rights UBC (SPHR UBC)
***Accessibilities Information***
Please email us if more information needs to be added and/or if you have questions/feedback: quaia.vancouver@gmail.com
– Room 7000 is on the 7th floor, with elevator access, and is wheelchair and scooter accessible as are the washrooms.
– Gender neutral and gendered washrooms are on the same floor as the room.
– Floor plan for the venue and room: http://www.sfu.ca/mecs/harbour+centre/floor+plans.html
– ASL-English interpretation is confirmed.
– There will be designated seating space in the room for folks with limited mobility and for Deaf people, folks who are hard of hearing, and others with barriers to accessing audio.
– Amplification via mics and speakers will also be provided.
– A specific donation jar will be available for QuAIA to build an ongoing Accessibilities Fund.
– Donations are completely voluntary and any donations will be greatly appreciated!
– In order to reduce the impact of electromagnetic transmissions (EMT) on folks with EMT sensitivity, we will be asking that attendees turn off their cell phones if possible, or place them in a designated area.
– We are creating a scent-reduced environment for this event. For more information on how you can help with this, check out these resources:
Myths & Facts about Chemical Sensitivity: http://www.peggymunson.com/mcs/myths.html
How to be Fragrance Free: http://www.peggymunson.com/mcs/fragrancefree.html
Fragrance Free Femme of Colour Realness Draft 1.5: http://www.brownstargirl.org/1/post/2012/03/fragrance-free-femme-of-colour-realness-draft-15.html
Contact at: quaia.vancouver@gmail.com